For 30+ years Accent has been the industry leader with a deep commitment to our customers, our employees, our community and the environment. We are experts in using refreshments and break space to boost workplace culture and productivity.
We are one of the largest independently owned refreshment services provider and pride ourselves on making our customers smile.
Born in Austin, Texas, our services now span across the United States.
Our promise to you
Encourage Collaboration
Design a gathering space that brings people together, helps build relationships and provides an on-site "getaway."
BOOST WORKPLACE CULTURE AND PRODUCTIVITY
Provide convenient access to delicious food and drinks to keep your people fueled and rejuvenated.
IMPROVE HEALTH
Offer a variety of product choices, including the latest trends like gluten-free and high protein, healthy fresh food, and traditional favorites.
Your one-stop-shop for all of your food service needs
Micro Markets

Micro Markets offer a healthy, convenient, and efficient solution for your break room needs. This latest innovation in workplace dining combines the convenience and availability of traditional vending with the selection and taste of a full-service cafeteria.

Employees can choose over 300 food and beverage choices in a 24 hour, cafeteria style layout, customized to fit your needs! Our food choices are nearly endless with the micro market and can include smoothies, yogurts, salads, pastries, and much more. Every micro market is designed and constructed specifically for your workplace, with your employees in mind.
Vending

We offer state-of-the-art equipment with multiple payment options and interactive displays to increase engagement through promotional offers, product information, and feedback. Our back-end technology keeps our machines full and product properly rotated for freshness. We provide wide variety of traditional & healthy snacks and drinks to surprise and delight!
Coffee & Tea

We bring the coffee shop and teahouse to your office – beans, cups, condiments and more! We offer a wide variety of options, including both local & national brands, as well as a private label option. Whether you're looking for the typical cup of joe with brewed coffee, a really great single cup, or a different specialty drink every day with bean-to-cup, we've got the solutions to meet your needs!
Water

Water Any Way You Like It: Filtered, Still, Sparkling, Flavored or pH Balanced.
Pantry Services

Add and retain top talent by offering food perks! Let us be your one stop shop for delivering beverages, food, fruit and bulk items with access to emerging brands and local suppliers. We can create a customized menu that are offered complimentary to all employees.
Kitchen Express

Kitchen Express offers an ideal, cost-effective solution for 1000+ people. A hybrid solution with food service and a market, this platform offers rotating menus that may include salads, soup, sandwiches, and entrees. Catering options are also available.
News About Accent
From Regional Vender to National Retailer
For many vending operators, expanding their reach to new regions and markets is hindered by their technology platform's inability to scale efficiently to manage wide-sweeping operations. Such was the case for Accent Food Services, a Texas-based refreshment services provider offering vending, micro market, and coffee services to its customers.
In order to grow its footprint in the market while still upholding the same standards for quality and service the company prided itself on, Accent realized it needed a technology platform designed specifically with unattended retail in mind—capable of providing the data, insight, and customer experience necessary for expansion.
---
Industry Titan Honored For Positive Life Changes By AHA
Josh Rosenberg, CEO and President of Accent Food Services received the December Lifestyle Change award from the American Heart Association – San Antonio. The AHA Lifestyle Change award is meant to recognize individuals who have made positive changes to improve their quality of life and health.
After being diagnosed with certain healthy conditions, Rosenberg began living healthier with yoga, juicing, regular exercise and the occasional golf for mental relaxation. It is these positive efforts and his optimistic attitude that are being recognized.
---
Accent Food Services Celebrates 1,000th Micro Market Milestone
In 2011, Accent Food Services opened its first micro-market in Austin, Texas. Not only would this new platform open opportunities for Accent in how they engage their consumers, but it would pave the way for positive change in how the vending industry was viewed overall. The unattended retail concept is clearly a successful space for the operator, as they have celebrated their 1000th micro-market grand opening!
---
Accent Food Services Welcomes New CCO
Accent Food Services has announced Dawn Piscitelli as it's Chief Commercial Officer. In this role, Dawn will lead strategy for the customer & consumer experience, and will drive value proposition and leadership for more than 35 of Accent's sales associates and leaders. Dawn will report directly to Josh Rosenberg, President & CEO.
---
The Dollars and Sense of Accent's Acquisition Streak
Which vending company will Accent Food Services scoop up next? What geographic area is next on its radar? What's its master plan? The fast-growing multi-state vending powerhouse has the industry abuzz with speculation following its acquisition of 14 vending companies this tear alone and its expansion into territories far from contiguous with its Pflugerville, TX home base.
Out with the junk, in with the greens: SA company focusing on employee health with fresh food-stocked vending machines
Vending machines full of fatty and sugary snacks are a staple of the work place, but one San Antonio company is changing the way employees eat and, ultimately, live.
The options when eating out for lunch may not always be the healthiest. That's why Accent Food Services features their Stocked Market machines.
---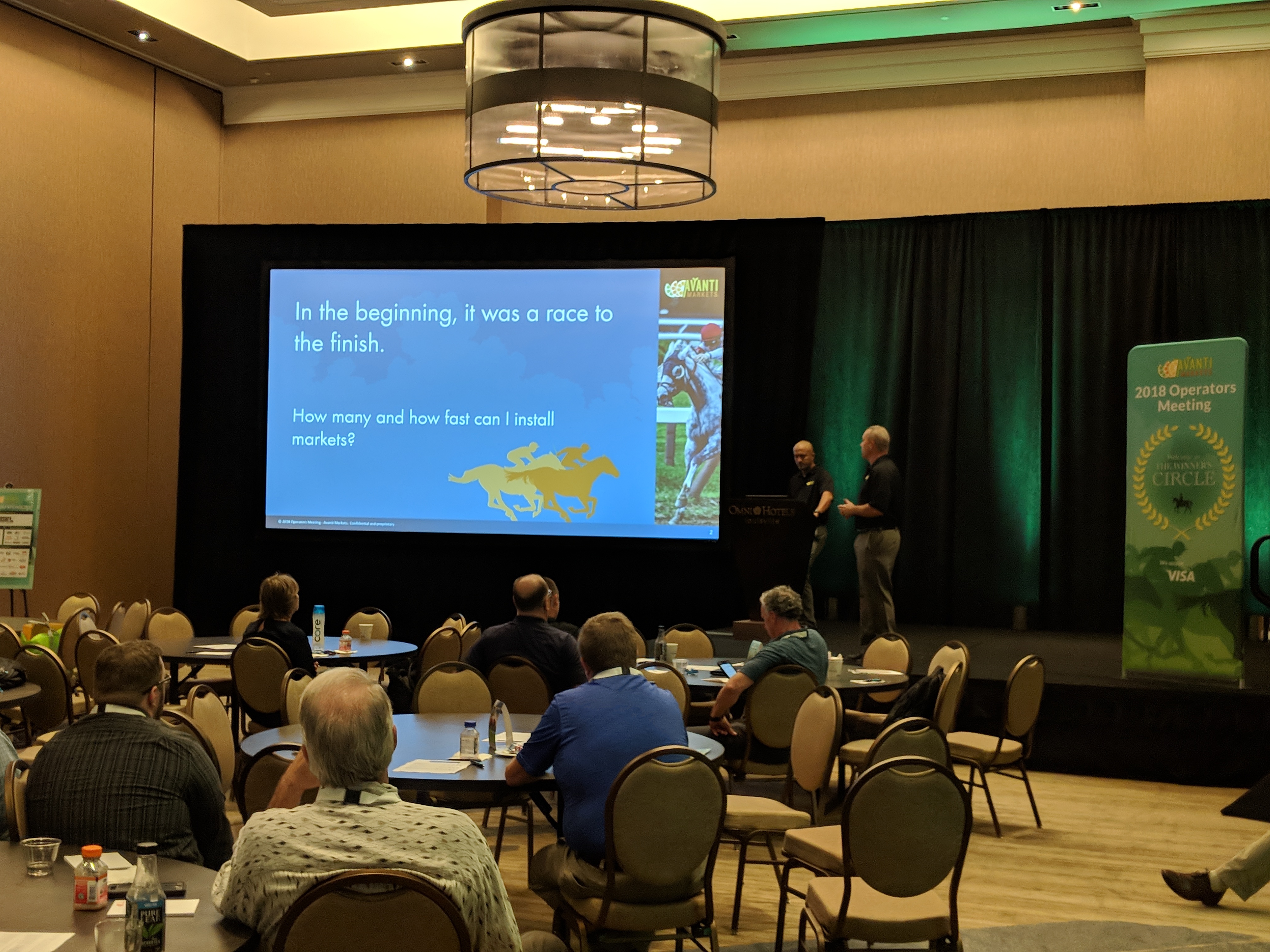 Avanti Markets Honors its Operators' Outstanding Achievements at Annual Operators Meeting
Avanti Markets Inc. — the largest independent micro market provider in the United States – held its Annual Operators Meeting in Louisville, Kentucky from October 3 through October 5, 2018, for its affiliate network of operators. This meeting previewed the new tools and solutions the company is deploying to accelerate operators' business expansion and drive greater performance in 2019. With a focus on the value micro markets bring to the independent operator and exposure to over 40 key suppliers, this meeting remains the go-to destination for growth-minded operators.
The meeting celebrated the operators' progress and innovation to create new opportunities. Avanti Markets recognized Ace Vending, now a part of Accent Foods Services, for their achievements and micro market dedication:
---
Accent Food Services Acquires Central Vending Services
Accent Food Services has acquired Central Vending Services, based in Gaithersburg, MD. This marks the first acquisition of this year for Accent Food Services and the third add-on for the company's Mid-Atlantic division.
"Over the past year, we have been focusing on the integration of our acquired companies, investing in infrastructure including our facilities, people and technology, and growing our base," said Accent chief executive Josh Rosenberg. "It is exciting to get back to improving our footprint through the right tuck-in acquisitions. CVS gives us a great start to continue our growth strategy. I'd like to thank Donald and Elysa Fischer for the opportunity to serve their customers as part of the Accent brand."
---
Accent Food Services Expands West with Ace Vending Merger
Ace Vending Inc. and Accent Food Services have completed an asset purchase agreement to bring Ace Vending Inc.'s strong customer relationships and sophisticated technology into the Accent family. This transaction represents the largest for Accent and will expand our Western U.S. presence under Accent's West Division. The ownership group of Kevin Van Hazel, Wade Stooks, Chuck Walton, & JD Stooks will all play key roles in the continued success of Accent's West Division. In addition, we expect that the entire Ace Vending service team will join Accent and continue to provide the highest-level service to customers as part of the Accent team.